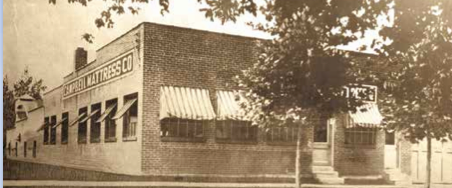 When I was a kid, the mattresses we got from Campbell were better than the other mattresses we got from other manufacturers.
This is ancient history in mattress years, for a business that doesn't seem to have changed a lot in a lot of years, it's worth noting that the years since I sold my first mattresses in the 1990s have seen the most changes the industry has seen since the beginning. But from my first experience with Campbell it was clear, they were not out to build the cheapest mattress you could find. Those wouldn't be allowed to bare the Campbell name. They also were not out to build the most expensive mattress you could find. What they did do, was give you the most mattress for your money and put that money back to work in Missouri, which meant a lot to my dad, and to me.
As the industry started changing, it really changed with, and for, and around my generation. Mattresses are an old school kind of business, that has adapted to be more convenient and transparent in the digital age. When I was a kid selling my first Campbell mattress, we didn't have the internet or cell phones, but it wasn't too many years later before lots of information was readily available, which has always provided me, what I consider, the ideal perspective for the modern world. Understanding the new technological advancements and the consumer's motivations, comes easily to marketing and business students today. Just as building a solid business, that you're proud to put your face in front of came easily to my dad, and his dad. Being able to look at how it's been done, and how things are starting to be done, to forge a path forward is my calling card. That, and wearing lots and lots of hats.
During this rapidly changing era of the mattress business, Campbell had lost her leader, and so she struggled to find her place in the new world. When the opportunity to become involved presented itself, I knew that it had the potential to be something very special. A fresh perspective, and a convergence of my experience building a business from scratch and my love and respect for stewarding a heritage brand.
The New Campbell will feel familiar, and brings the best of the early years forward, while introducing some new and exciting products and features that are designed to give you the very best night's sleep possible. That's what it's all about after all, getting a great night's sleep. And so I welcome you to the new Campbell Sleep.


Pat McCurren
Campbell Sleep, LLC