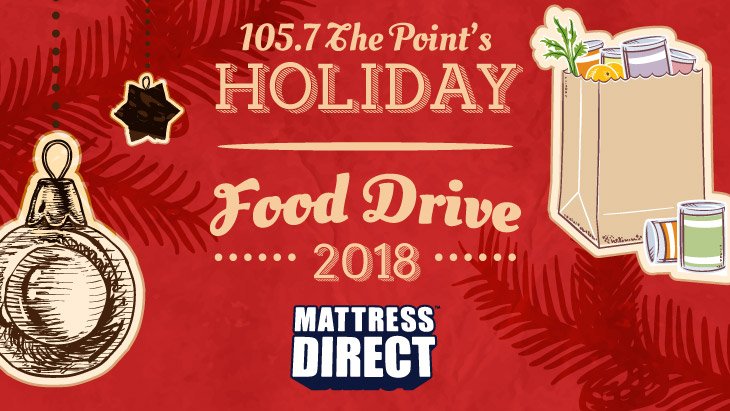 St. Louis, December 7, 2018: Mattress Direct (www.stlmattressdirect.com), a leading specialty retailer of mattresses and other sleep accessories in the St. Louis metropolitan area, and manufacturer of the Campbell and Relax-O-Pedic mattresses, announced they have partnered with KPNT (www.1057thepoint.com), St. Louis Rock Alternative Station to collect non-perishable food items and raise money and awareness for Operation Food Search (www.operationfoodsearch.org); which is the largest distributor of free food in the St. Louis bi-state region helping to feed the bi-state area's poor and hungry.
All 17 St. Louis bi-state area Mattress Direct showrooms are designated donation drop-off locations for Operation Food Search, in the month of December. Those who make a donation of a minimum of two canned or non-perishable food items will receive a limited edition KPNT Rizz Show Holiday WEIRDO Sticker.
Mattress Direct designs and produces premium mattresses locally at Campbell Sleep, and in the month of December a portion of the proceeds from every Campbell Heritage Collection mattress, every Premium Relax-O-Pedic mattress, and every Rizz Show WEIRDO Smart Pillow sold will be donated to KPNT The Point's Holiday Food Drive with Operation Food Search.
Mattress Direct will donate:
$5 donation for every WEIRDO Smart Pillow (Retail $35-$55)
$50 donation for every Campbell Heritage Collection Mattress (Retail $500-$1500)
$500 donation for every Premium Relax-O-Pedic (Retail $2500-$4500)
"We couldn't be happier to have Mattress Direct showrooms be drop off points for Operation Food Search, as well as to have Campbell and Relax-O-Pedic contribute funds to the Point Food Drive this December", said Pat McCurren, President and CEO of Mattress Direct. "Campbell has been making locally sourced and produced products in our region for over 85 years, and the Relax-O-Pedic sleep system features individual cooling comfort cushions and lumbar support sculpted memory foam for the optimal sleep surface."
Sleep Specialist, Justin Taylor continued, "It's hard to fall asleep when you are hungry. It makes me feel so good to know that we can help do a bit to help people who might otherwise be going to bed hungry."
Campbell Sleep (www.campbellsleep.com) is a wholly owned subsidiary of Mattress Direct, Inc and has been building mattresses in the state of Missouri since it was founded in 1933.
Relax-O-Pedic (www.relaxopedic.com) is a premium mattress and sleep system designed and built at Campbell Sleep. It features exclusive temperature regulating and comfort technologies to put the sleeper in a state of relaxation conducive to a great night's sleep.
"The team at KPNT really cares about Operation Food Search, and it's our privilege to be facilitating the food drive to help such a great organization", added McCurren.
Media Contact, Mattress Direct – [email protected] 314-650-1210.